Hey All,
Had a someone asking about the ability to remap arbitrary notes and was trying to find a copy of PizMidi's midiNoteMap plugin, but couldn't find a working download for it. So… grabbed the source and built it myself, only to find it had a bug. So… fixed the bug and here it is if anyone wants it.
Basically it lets you map any note to any other note, or suppress specific notes. Great for remapping keyboards to drum sets etc…
midiNoteMap.zip (94.5 KB)
midiNoteMap-x86.zip (87.2 KB)
In case you're not used to working with MIDI plugins, set it up like this where you route MIDI from your keyboard to the midi map plugin and then the output of the plugin to whereever you want it send (in this example to mdaPiano).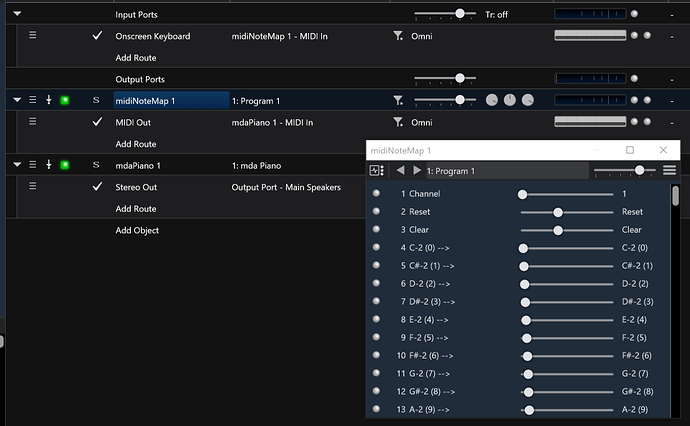 You can then use the plugin sliders to map any note to any other note. Note too the Reset and Clear sliders at the top, if you slide them to the right and then back again, it'll reset the map or clear it to nothing assigned.
Brad