Cantabile build 3624 (available now) introduces the ability to set per-song tempo and transpose overrides in the set list. To set these, right click on the song and choose "Edit Song" and you'll get this: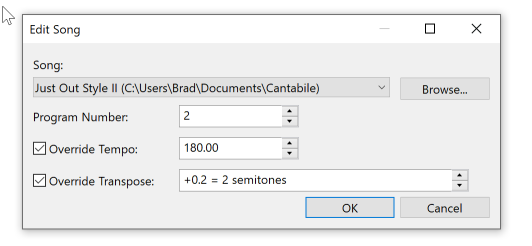 Some notes about how this works:
Setting an override will set the associated setting in the song when the song is loaded via the set list. Loading the song by using File Open will not apply the set list override.
When an override is applied, the associated state behaviour for that item is turned off - so you can't have per-state tempo/transpose if an override is set in the set list.
After applying a tempo or transpose override the song will be set back to not-modified if it wasn't modified before the override was applied.
Changing the per-song overrides for the current song will also immediately apply those overrides to the current song.
Also:
The overrides (if set) are shown in the set list side panel (see image 1 below)
The overrides can be shown in the set list grid (right click -> Adjust Grid Layout) (see image 2 below)
This is only available in Cantabile Performer
The printable set list will show overrides
As always, feedback welcome.
Brad