New Feature: Routing Diagrams!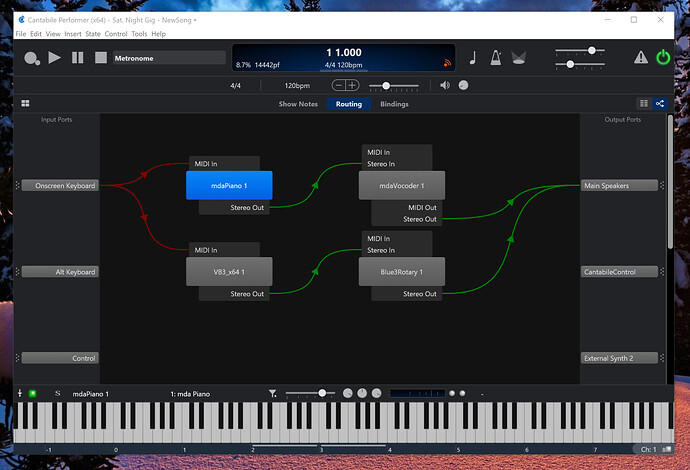 This is available now as an early access: download here. It's build 3581, but for the moment I've left it out of the release notes until I'm satisfied it basically works.
I still need to put together a video demonstrating it, but here's some tips to get you started:
There's two new buttons at the top right of the routing panel to switch between "Table View" and "Diagram View". There's also similar commands in the View menu. You can also switch views by Ctrl+Shift+X.
The song or rack's input and output ports appear to the left and right of the main work area.
Plugins, racks and media players appear as connectable objects in the center of the work area.
Routes are represented as wires between those objects. (MIDI routes are red, audio green)
The ports of plugins, racks and media players appear in little panels above (inputs) and below (outputs) the main body of each object.
You can click and drag between ports to create new routes, or click an existing route to select it and then use the handles at each end to change the route's source/target.
Routes can be reshaped using the smaller inset handles that appear when a route is selected.
Components like to align themselves on a grid and hovering in that grid where a component might appear shows a ghosted Add button that you can use to add new components. (for touch screens which don't have a concept of hovering like a mouse, just tap and hold to bring up the context menu to add new objects).
You can expand/collapse plugins, racks and media players to hide their ports and provide a cleaner routing view by pressing the Tab key (or via the right click menu).
When objects ports are collapsed, you can hover over an object to temporarily show the ports so you can drag from them to create a new route. Similarly when dragging the end of a route wire, moving over a collapsed component will temporarily expand it so you can see it's ports.
Settings for the selected object appear in a slot at the bottom of the work area - this reflects very closely how the same object appears in the table view.
Cantabile can "auto-arrange" the layout of objects. Press the A key or choose Edit -> Audio Arrange Routing Diagram. This can be handy if you've added a bunch of objects using the table view and after switching to the diagram view the layout is weird.
Each song/rack will remember it's current view (table or diagram) but the default for new/unsaved songs racks can be configured in Options -> General -> Preferred Routing View -> Table or Diagram.
The input and output ports area can be resized by grabbing the edge of the area and input and output ports can be moved using the little gripper at the edge of each one.
Keen for feedback, let me know what you think!
Brad
PS: The main thing that came out of Mitch's UX survey late last year was that people really seem to struggle with the table based routing view in Cantabile - hence this new feature.