Hi
Any recommendation for General Midi Synth plugin ?
thanks
ly
Funny you should ask - we're having a General Midi discussion on our Organ VST Tips and Tweaks thread. I'm going to move that discussion to here and you will have answers.
Hi Corky, good morning everyone.
As you certainly know, I recently joined this Community and until now I have felt helped both by you, Corky, and by everyone's examples (not least thanks Daniel, suggesting me to see an answer to my momentary impasse in:
Menu bar disappeared! ).
I come to my question.
In a recent post to Brad, I asked him how Cantabile could interact with Cubase (or others like him).
This was my message:
I have a question, to understand something about the live music part. Years ago I became familiar with Cubase and I must say it was very interesting, because you could create music with all the musical instruments you wanted. Something, in my small way, I had created, with great satisfaction !! Now I wanted to ask: what similarities are there with Cantabile Performer and if the systems can integrate in some way.
Brad explained to me the various differences (such as: Cantabile for live music, Cubase for musical composition).
He also explained to me that:
The only way to get Cubase and Cantabile to interoperate is via virtual audio and MIDI cables.
I would like to ask this same question to all of you, if someone in his concerts uses Cantabile and Cubase (or similar) at the same time and how he is equipped.
Personally, being in my first steps, I'm creating presets for sounds only (as a controller I use an old Pa80 korg).
I've only been using Performer with the audio player for a few days (*.mid in particular), although I still understand little…
Regards
Sergio
Well stated…

AKTSHULLY, I think I wrote it backwards, each component reduces your MTBF. The way I wrote it sounds like it increases your MTBF. It really divides it. Point is, each piece of kit make unreliability go up. Sum of a negative number. (I thought I better correct it before @Torsten quotes the EXACT real formula for MTBF/MTTF).

Hi Sergio,
I do use Cubase and Cantabile - but rarely at the same time!
Cantabile is my tried-and-trusted live platform; it does everything I need on stage and has been super-stable over numerous gigs now. And the things I can do with it are far superior to any previous hardware setup in terms of ease-of-use and customizability. I spend far less time and energy "operating devices" on stage and I can focus on actually making music. The price I pay is more advance preparation - building my Cantabile setups individually for every song. But that also becomes easier with experience…
Cubase is my main songwriting / arranging / production platform. I use it only in my home studio, never on stage, so there's not a lot of overlap between the two.
I've considered linking Cantabile and Cubase via virtual audio and MIDI connections in order to use my "live" setups in Cubase songs, but I abandoned that. My live setups are tightly integrated and complex bundles of multiple instruments, level setting racks and effects to make it easy operate them within my live setup. When recording, I've found that I'd rather have the individual instruments and effects separate and mix them within the Cubase mixing environment instead of pulling everything into cubase as a stereo sum.
So my main link between Cubase and Cantabile is copying instrument presets from Cantabile to Cubase, so I have my signature sounds ready to record. Not being able to import .fxp files directly in Cubase for VST3 plugins is a bit of a drag, but I've been able manage around that using instrument-specific preset systems in most cases.
Hope this helps!
Cheers,
Torsten
hi Torsten, and i Corky.
Thanks for your information and clarifications, they are and will be useful. It seems logical to me that the two systems are best kept separate, for obvious reasons (live music).
What I wanted to know is if the Cantabile platform foresees a possible and simpler interaction with Cubase using it only in the preparation of a concert to make some corrections to a midi file, for example.
I was asking this because I am curious to understand when you are live how you use a midi file through the player.
I think I understand as if there was a base and then you play on it.
Like a kind of partial playback. For what I'm trying to figure out now is how to make a .mid play because at the moment I can't hear anything (I'm clumsy …). Indeed, can you explain to me how to listen to the .mid file with the Cantabile player?
PS: I don't do gigs, but as I said, I like playing for my friends and playing in church.
Cheers,
Sergio
To play a MIDI file, you'll have to send (route) the MIDI output of the media player to a VST instrument that can actually generate the sounds, e.g. Roland's Sound Canvas VA. Then you route the output from that instrument to your Stereo Output. That should do it.
I generally don't use MIDI files live - I try to keep everything truly live

.
But I do have media players in a number of my songs with MP3s of our tracks "minus-one" (without the keyboard parts) for my personal rehearsing. I have some buttons on my controller mapped to starting / stopping playback and locating to certain points in the songs, so I can work on my chops without the band having to suffer through that…
I use Cubase to create these backing tracks, then export to MP3 and load them up in Cantabile - all done! No need for closer integration for me - too much complexity. When I make changes to these tracks, I simply export them in Cubase and copy the new MP3 to my "rehearsal tracks" folder, overwriting the old version. No big deal, and it's clean and stable…
Cheers,
Torsten
thanks Torsten for the info.
I'm not home now. I'll try with Canvas Sound tomorrow (I think I have it somewhere), then I'll let you know if I can listen to the .mid file.
I will certainly have some subsequent questions, but I will take it one step at a time: what I know about Cantabile (with presets, for example), happened precisely because I like to go step by step, as well as to learn, it is more fun.
Thanks, I'll let you know how it went tomorrow.
Sergio
Actually, playing for friends and playing in church, could be considered a "gig". Cantabile is perfect for large venues, or small intimate playing.
Corky, I completely agree!! But I have to get used to using Cantabile well.
At the moment I limit myself to small steps. In my church there is an organ (Viscount).
It has a good sound, but I prefer Hammond sounds (my passion, always !!).
I tried some time ago, always in church, these sounds using my old Korg Pa80 as a controller: they are exceptional !! Then, for comparison, I used my other keyboard, Oberheim 2 Square, which has some good Hammond clones.
The comparison was good for both, with preference for the Hammond presets I have in Cantabile.
All this taking advantage of the good acoustics of my church with the leslie effect "fired".
Finally, I discovered that the Viscount has midi ports: as soon as my priests allow it I would like to use it as a controller.
I'm really curious to see how my church organ sounds !!
Sergio
Sergio,
My wife and I played in the church orchestra for six years. They had a Hammond Console (not sure of the model - newer one) MIDI'd to a Roland SC-88 Pro for extra sounds. I set up MIDI Routing from a Kawai (electric) Grand piano to give the pastor's some flexibility with some Pads, Strings and a Rhodes with a Roland Integra-7. I played a SampleModeling Trumpet along with my wife and her acoustic trumpet.
I felt it was as much "a gig" as anything I've done in the "Rock" world. The sky's the limit with C3 (Performer anyway).
Doug
hi Doug,
good evening to you too.
Thanks, for the advice about any pads and strings to be offered in the church !!
Indeed, you are all right in considering that playing in church is a concert! Maybe not for themselves, but to allow people to feel spiritually close to God !!
These interventions of yours are giving me excellent reasons to try to do something good for my parish.
In fact I had thought of something softer, but you are making me enthusiastic!
I'm thinking about it, seriously!
Sergio
Here's a simple song I've knocked together to study MIDI and MP3 tracks: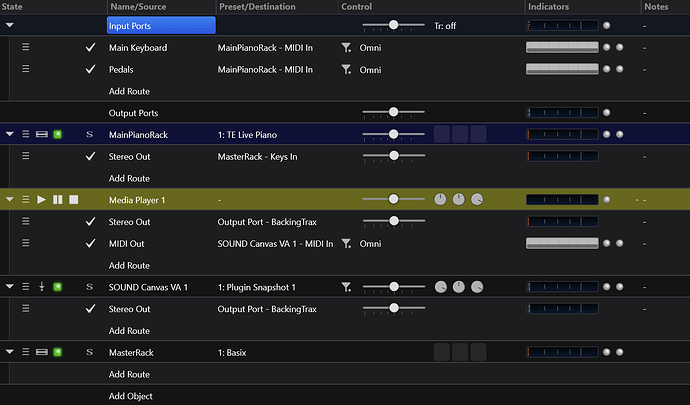 I open this and simply drag-and-drop MIDI or audio backing tracks to the media player
When I load audio backings here (MP3 files), the media player will send the output directly to my "BackingTrax" audio port (I use a separate port here simply for flexibility reasons, could also be routed to "Main Output".
When using MIDI files, the media player output gets sent to the Sound Canvas plugin, which will generate the sounds and send them to the BackingTrax output port.
The piano rack sends its output to the MasterRack, which is my general output routing setup and takes care of some limiting and the routing to main and monitor outputs.
This way, I can just quickly open a media file and play along with my piano sound.
Hope this helps!
Cheers,
Torsten
Torsten, unfortunately I can no longer find sound Canvas VA in my archive, so I can not do the tests you had recommended.
Is there another similar Vst?
There are many Rompler type vsts on the market. Some that I use are Korg M1, Korg Triton, and Xpand!.
You can search the internet for free ones.
I can't manage the audio player.
I think I will give up, at least for a while.
I had not until now to try this potential of Cantabile, probably that I have not yet understood the various steps to configure the player and listen to the result.
Torsten or even Corky, a question:
Since I can use mp3 files instead of .mid, suggest an application to manage mp3 files to delete a track, such as voice or keyboard, etc.
Sergio
I've tried a number of these "voice removers", but generally the quality is at best mediocre, mostly unacceptable. How about you use a MIDI file inside Cubase (seems you find your way around there nicely) and export the MP3 file you want with just the right tracks active. Then you have just the MP3 file you want…