You got a good review in the Latest Prog Mangazine, and I have purchased for my road trip tomorrow…
Wow, has that hit the stands already? Sweet! Cool, let me know what you think…
I just purchased and listened to your new album (twice in a row actually) and I really love it. Is the opening track a real piano or a vst? All the organ work is really nice too.
Cool, thank you! It's a VST but I forget what it is actually. It might possibly be Piano In Blue but I just don't remember. I know a version of it was but it might have been replaced with something else. The organ is still all VB3 v1.4 but some of it used the new IK Leslie. It wasn't as dialed in as it would be were I doing it today!
Hi, Fred
Well, I think the album will take a few listens to truly get into, but I like what I have heard so far whilst I was dodging floods in Wales and carnage on the Motorway (freeway)…
Great music: "A hole in sky" is a real ear worm, and inventive use of Mellotron as well.
Great Organ Sounds. If this is VB3 and IK Leslie, I will be making the swap!
Now, all I need is the new IQ album from Neil, and I'll be a happy prog bunny

Just wanted to say I have been listening to the new Glass Hammer album a lot lately. It is great!

It is one of those slow burners that does take a while to fully grow on you, but those are the ones that tend to stay with you. Well done Fred and band.
Back on stage(?) again today with Mind The Gap:
Dellbrücker Jazzmeile
Burgklause, Bergisch-Gladbacher Str. 823
Cologne, Germany
We'll see how much of a stage it is - will probably be pretty cozy

Cheers,
Torsten
Wow, thanks Derek! I really appreciate that!
A few more IQ dates coming up…
Dec 14, 2018 - The Legendary Christmas Bash 2018, Islington Assembly Hall, London, UK
Dec 15, 2018 - The Legendary Christmas Bash 2018, Cultuurpodium Boerderij, Zoetermeer, Netherlands
Jan 12, 2019 - The Met, Bury, UK
Apr 13, 2019 - Artrock Festival VII, Reichenbach Im Vogtland, Germany
Jun 22, 2019 - Midsummer Prog 2019, Valkenburg, Netherlands
Jul 19, 2019 - Night Of The Prog Festival 2019, Loreley, Germany
Neil
Any plans for Toad Suck, Arkansas this round?

How about Nail and Ozone Arkansas while your this way

Plenty of parking lol
Honestly Neil, I would love to see your act if you get near enough!!
Two communities I lived near in Arkansas: Goobertown and Weiner. And I would love to see Neil as well. Maybe a in larger town like Grubbs tho.
Toad Suck? Nail? Ozone? These just sound like made-up place names!

New dates now confirmed for 2019…
Sausage, Arkansas
Ear Trumpet, Arkansas
XLR To Balanced Jack Adaptor, Arkansas
Seriously though, once our new album is out next year we're hoping to get back to the USA for some proper IQ shows (not just festival appearances). Can't wait!
Neil
They do exist and I have been to each one. I'm not sure if that is a good or bad thing and I must concur they do sound like made up place names. Arkansas is weird that way, I'll check the map for Sausage and Ear Trumpet just to be completely sure they don't exist here

Dave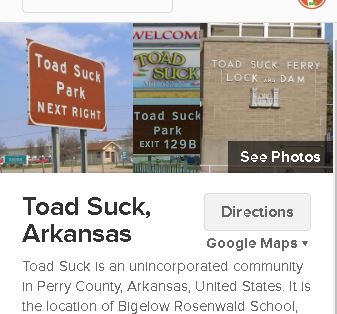 Toad Suck, Arkansas - Bucket-listed!!
Neil
We're lucky you didn't unleash some cool UK names there are many…
Just like the band, Black Oak Arkansas, who's members I knew in high school, and have played music with many times…(name dropping), I think Toad Suck is a fairly good band name too.

Jim's tighty pants don't fit right any more but he still dons them occasionally.

Still legends around here …
The last time I spoke to Jim, my band was doing the warm up for them at an outdoor venue, and we were behind the stage making fun of his "bursting at the seams" stretch pants. I asked him if he was still using the same pair of rolled up socks in his groin area that he used in the 70s, and he said, "you mean these?" and stretched the front of his pants down and there were the socks tucked down his inner thigh.
Stanley Knight (original guitarist) lived 2 blocks from me for several years. His son and my son were in a band together. Unfortunately he passed awhile back, so have a few of the others. Again, another thread I destroyed.