I guess guitarists must get G.A.S. As well

Danny from Big Big Train here.
The band was formed in 1990 (I've been a member for five years), but some gigs we played in 2015 were the first live performances for 17 years. Consequently, albums had been increasingly made with absolutely no thought as to live playability, and covering the keyboard parts (not to mention string section parts) was a challenge. We made the decision to try and capture as much of the detail and atmosphere of the albums as possible rather than strip everything down. I have no doubt this would not have been possible without Cantabile.
We still needed a second keyboard player (Andy Poole) for live performance. He's a longtime Mac user, so really only had Mainstage as a practical choice of software… but, hopefully it won't be long before I can suggest he takes a look at Cantaible, eh?
Hi Danny! Great clip of a track from a great album!

As a band using both Cantabile and Mainstage in anger, it would be interesting to hear your thoughts on how they compare, in terms of performance, flexibility, reliability etc…
Neil
Woah! Hay Danny! Had no idea you were here. With you and Neil I feel elevated by association!

Same again. Did not realise you were here, Danny. Great band and the band have "snared" one of my modern day drum heros (huge Spock's Beard fan!)!

and XTC were part of my youth!
I'm in the presence of genius! Amazing to discover so much talent here!
Hi Danny - loved the last album, mate. More, more more!!
I really enjoyed that, Danny!
Nicely put together - well played and beautifully sung in, what I can only describe as, a glowing tribute to the style of Peter G… without sounding forced or contrived.
Loved the F Horns!!
Good work!
Adrian
Hi Neil.
We use both in anger… but not very often! So I have very limited reliability data. I can say that during the 2015 gigs Andy had to reboot his MacBook once whereas I had no problems with Cantabile. (Version 2 at that point.)
I haven't got to know Mainstage at all well myself, but two UI issues where I noticed it seemed to be superior - inclusion of key range indicators and better general "readability" - were both sorted in Cantabile 3.
Joined a couple of years ago but have been mainly lurking and learning a lot about Cantabile from those of you (including Neil) who have more experience with it than I do. Will be using version 3 live for the first time at our upcoming autumn gigs. Various tricks and tips posted here have been very helpful in guiding me through all the setup possibilities, so thanks to all who share their knowledge and suggestions.
I have actually yet to meet Neil in person, but there are strong connections between Neil's band IQ and Big Big Train. We share the same (hugely talented but modest) sound engineer, Rob Aubrey, and (I'm told) IQ were an early influence/source of encouragement for BBT back in the early 90s.
I can tell you it's a fantastic and reassuring thing to know that someone as skilled as NDV is guarding one's back! I was also a long-time XTC fan, so it's been a privilege to work with Dave Gregory. He's also one of the nicest chaps you could hope to meet.
You're in great company in BBT

I saw Spock's Beard in 2008 in Cardiff when Nick was fronting. Awesome gig. I think Ryo was surprised that we had our young (at the time 14 year old) daughter with us (I had to be standing in front of the keyboards of course! Whilst she would deny it now(!), she hugely enjoyed it.
Huge IQ fan as well!
Neil "Tony Banks" Durant!!!
This song and performance isn't good… It is fantastic!!! Reminds me very much of the early days of Genesis, one of my biggest influences.
Love your piano work @ 9:20 and Voyager solo @ 10:30. Great guitar outro too.
I have one question though. What's the story behind the white gloves?
On a related note, I'm now a big Voyager fan. Since getting one, it has become one of my favourite lead synths. Such an expressive instrument.
Aww thanks David! Actually I don't know the story behind the white gloves - Pete, our singer, writes quite enigmatic lyrics, and often accompanies them with equally enigmatic actions/props…
Good to hear from another Voyager fan/owner!

Neil
A new Voyager fan here too, but I'm having trouble with mine. Would any of you be prepared to try a setting for me and see how your Voyager behaves? I don't want to clutter this thread, so PM me if you'd be able to help - should take around 5 minutes.
Maybe you could start a new topic for it. I'd be happy to help if I can.
No worries. I have done sufficient forensics to have Moog scratching their heads and the analogue board will be heading to one of their engineers tomorrow!
Does a cover of Shine On You Crazy Diamond count?
Edit: Hosted video had issues - link is working now, but can't embed.

Bless a beloved fan of our's for getting this video, but - frustratingly - in her effort to steady the shot, I remain off camera pretty much the entire time. So here's some explanation as to what is going on:
For the "free time" intro, I'm off camera to the left playing the "moog," as well as holding down a big, open chord on a ARP sound. The keyboard you can see is doubling that ARP sound, as well as doing the moving "Gsus2 - Gm" bit (since I'm just holding the chord with the sustain pedal).
Once "time" starts, I swap the ARP sound for a hammond sound. The hammond is maybe a little low in the mix on this recording (it had a tendency to take over the world on this tune, so I must have been playing it safe this night) - but when the moog-over-hammond solo starts around 6:21 I'm finally in full retro-dual-keyboard glory, playing the hammond on the lower keyboard and the solo on the upper.
Since the rig is out of shot, here's a couple pics of it. The Korg Kross is midi'ed into my Surface Pro and is just acting as a midi controller. (It doubles as a backup sound source in case anything goes wrong with the laptop - which, in two summers of gigs has only happened once. It can also do patch switching, but we've pretty much moved away from that to using the touch screen you can see in the top photo. It's an android phone connected via Splashtop)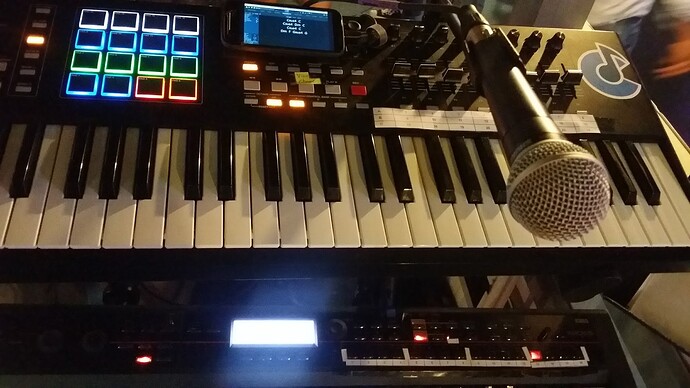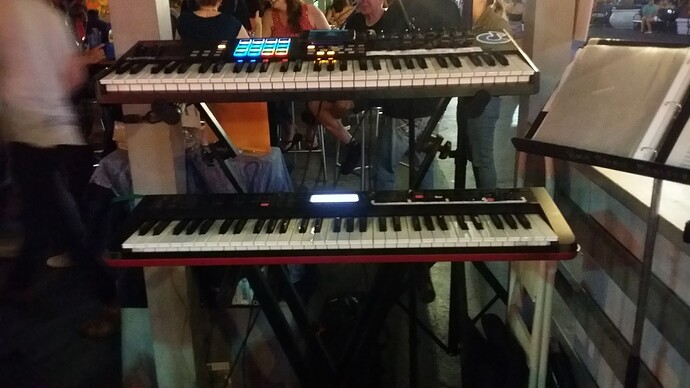 I'll have to dig out my Shine On Intro some time. Not sure we have a video of it.
One of the best intros ever to a song - that and Xanadu by Rush!
It counts indeed! Will look forward to hearing it later…
While on the subject, does anyone know specifically what Rick used for the string pad on that intro? It's very nice. I know he had a Solina but it sounds soother than that.
I don't know for sure what Rick used, but I got remarkably close by using a Solina patch on Kontakt through a phaser in Helix Native. I kid you not, it came to me in a dream! I was drifting off after rehearsal one night, pondering about how to make some patches sound better, when it hit me there had to be some kind of modulation on that sound.