Hey All,
Things might have seemed quiet on the Cantabile development front lately but I've been busy and thought I'd provide an update.
The main thing I've been working on is a new version of GuiKit - the UI library that Cantabile uses. Since this is a pretty big change, I've been reluctant to do anything major in Cantabile that will then need to be ported. As of yesterday I basically got GuiKit finished to the point where it's ready for use in Cantabile.
Also, .NET 5 is out now and looking pretty slick so I've decided to roll a whole bunch of things into one biggish update that I'm calling "Technology Update 2021". This will include .NET 5, GuiKit 3 and various other library and toolchain and updates.
Most of these changes won't bring new features per se but they will provide a good foundation to build upon soon after. In the meantime the main improvements will be:
.NET 5 - considerable performance improvements.
GuiKit 3 - cleaner, simpler, leaner and better in so many ways (I can't wait till Cantabile is moved to this)
New theming engine makes pretty much everything themeable.
Theme hot swapping - no need to restart to switch themes
UI hot scaling - no need to restart to adjust scaling (and possibly independent scaling for different parts of the UI).
Pixel accurate layout engine will fix various display artifacts in the current version.
Improved touch screen support.
Improved hi-dpi and multi-monitor support
New JSON serialization library (JsonKit) supports trimming which should reduce the size of song and set list files considerably.
New language translation tools and library (TranslateKit) will make things easier for translators.
Better native control hosting should improve the plugin editor dialog and in future allow hosting of plugin editors in Cantabile's main window.
Much improved UIAutomation support will make Cantabile's UI programmable from third party tools and will improve support for accessibility tools like screen readers.
Better exception handling and a new crash reporter.
The biggest visible change will be the crisp new UI. Here's a screen shot of one of the GuiKit3 test screens showing the new look. (there's also a light theme and you can create your own if you're keen)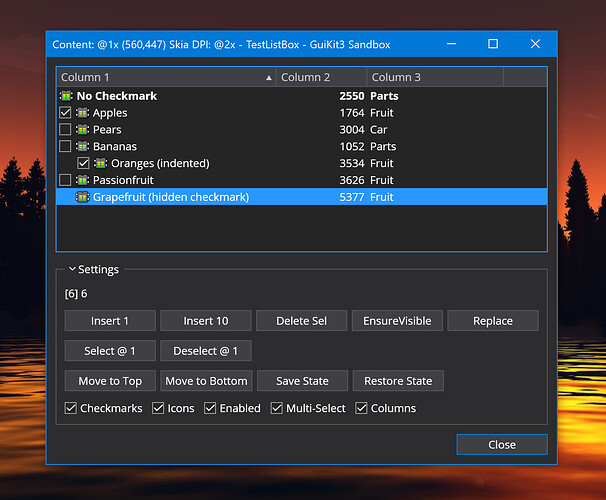 Finally since all this is going to require a lot of testing this is a good opportunity to clean up some riskier areas that I've been putting off. ie: time to pay off some technical debt.
The next step is to port all of Cantabile's custom controls to GuiKit 3 - things like the on-screen keyboard, the wiring view, midi activity indicators, level meters etc… I'm guesstimating that'll take about a week or two.
If you're interested, I'm tracking all this in Trello - see here and will post progress updates here too.
Brad