Two years ago I bought a RME MADIFace XT sound card to improve the audio performance of my Surface 3 Pro - at least I thought to. However, I always noticed clicking and sometimes also dropouts in an unpredicted manner. If I used the internal Realtek soundcard instead I never noticed any glitches.
Therefore I decided to optimise my Surface 3 Pro according to Brad's "Gltich free Audio"-Tutorial. However,nothing changed significantly. Thus I investigated the problem in more detail using LatencyMon. As shown below LatencyMon confirmed that in contrast to Realtek onboard audio MADIFace XT is inappropriate for real time audio.
This experience appears to be similar to that with RME Babyface in this forum:
ROB on Aug 16 => What audio interface do you use live?
To enhance performances I've bought an RME babyface to replace my card, mainly (but not exclusively) following the enthusistics posts in this thread. The result is that performances are worsen……
…
In my system, the Zoom soundcard performs better than the babyface. I haven't made thorough tests on the babyface (it is already back in the box for the shipping), but for sure I have had no gain in performance with it… a lot of clicks and crackles at 128 samples, with just a piano load in cantabile…
This is my experience, for what it's worth…
I have contacted already RME support. It appears that in the end they refuse to provide any explanation why the Realtek onboard soundcard is so much better than RME MADIFace XT.
Has anybody an idea why MADIFace XT is so worse?
I figured out that the problem does neither occur if MADIFace XT is plugged in USB3.0 interface nor if Cantabile is loaded without selected MADIFace XT. However, if MADIFace XT is selected as audio interface LatencyMon shows servere Problems for realt time audio processing (data not shown).
Regards
Michael
Surface 3 Pro i7-4650U ( 1.7 up to 3.3 GHz, 4 MB cache, 15 W), 8 GB Ram, 512 GB SSD, Windows 8.1 with Single USB 3.0
Gltich- free AUDIO-Optimisation: USB-Powermanagment (Power save: off) , ThrottleStop (TurboBoost, SpeedStep and C1E deactivated), Firewall & Antivirus deactivated, all unused USB Ports deactivated, …
Cantabile Performer (x64) Built 3.0.3242 48KHz 512 Smples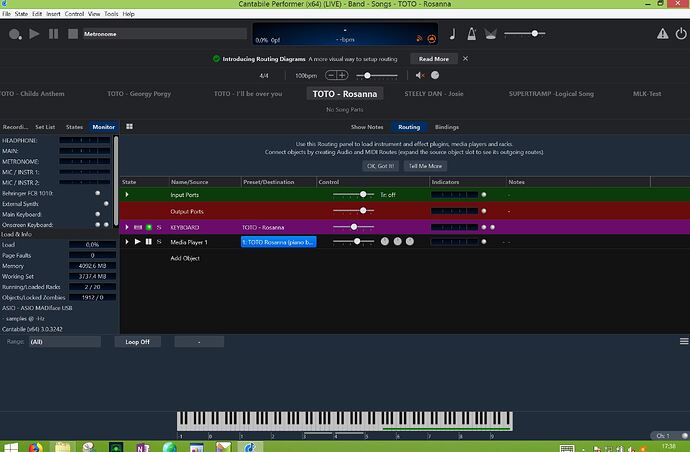 Cantabile Performer on audio load: internal Sound card Realtek Audio High Definition: Backing track Rosanna & accompanied by active Keyboard (Arturia Keylab 88 via USB => Keyscape LA Custom C7)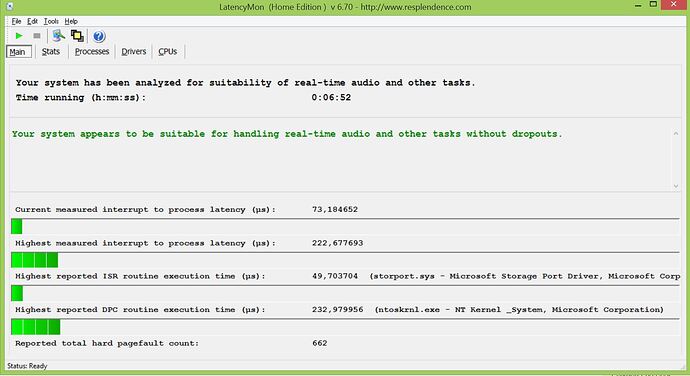 Cantabile Performer on audio load: MadiFace XT via USB: Backing track Rosanna &accompanied by active Keyboard (ARturia Keylab 88 via MIDI => Keyscape LA Custom C7)