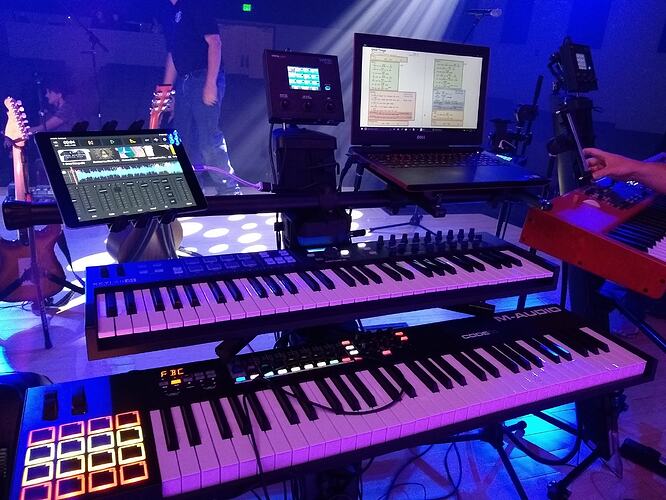 This is my current performance rig: An Arturia Keylab Essentials 61 and a M-Audio Code 61. I have an identical rig at home for practicing and programming. I have a movement disorder called Dystonia, which started in 2001. While getting back into playing has been the best therapy ever, the years of twisting fingers has caused some damage. I'm finding that the action on the Code 61 is just too heavy for me. I've adjusted the velocity curve, but it really is just the weight of the keys that can either hurt my fingers or make it hard for me to get the dynamics I need for playing a song because of the lack of control I have. The Arturia keyboard isn't bad at all. Even though they call them "semi-weighted", they are really kind of squishy synth action keys.
So… I'm considering replacing the Code 61 with something else. I'm leaning toward another Keylab Essentials. They aren't that expensive. I'm barely using the pads and sliders on the Code 61. I use most of the pads/faders on the Arturia. I would lose the expression pedal on the Code 61, but could buy an Audiofront (https://www.audiofront.net/MIDIExpression.php). In our greenroom I use a Nextar GX61 and Alesis V61, neither of which I like at all, but it's just for warm-up. I'm wondering if there are any cheapo light action keyboards that might replace the Code 61. These keyboards don't go anywhere, so durability isn't a big issue.
Any input is welcome and TIA.