When carrying out some latency tests on my Boss RC-505 looper, I stumbled on what appears to be a seriously degraded waveform when echoing input over audio (Inst Input to Line Output) on the RC-505. Here is a summary of the waveforms: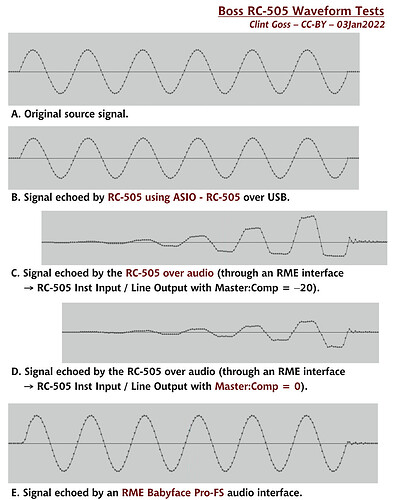 When I echo the source signal [A] over USB using the RC-505 as an audio interface [B], the output looks sample-perfect.
However, when I switch to sending the signal over unbalanced audio cables [C] through the audio ports (Inst Input and Line Output), the RC-505 produces a rather grotesque waveform. I though that the compression might be the issue, but [D] with compression=0 shows similar issues. No effects are engaged.
I did a sanity check in [E] using an RME Babyface Pro-FS interface on another host to echo the input, and the waveform looks normal.
Can anyone suggest what might be going on?
For more details, here are the latency test results. In summary, using the RC-505 as an audio interface seems to carry a latency of about 35 msec vs. a round-trip time of 7.5 msec using the RME UCX II and an audio link to the RC-505.