Hi @ Cantabile Community,
first of all: a happy and healthy new year.
I got a problem with rack states without being aware of having changed anything in my setup.
Here you see the main panel with 16 Ch. for my Yamaha MOXF8. CH2 are E-Pianos and I got a few different
rack states.
For example … the E-Pianos: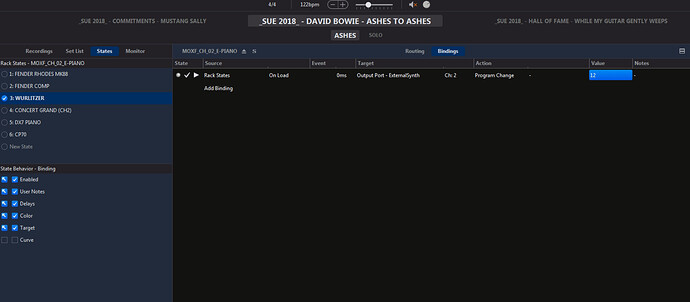 In every rack state the value now is set to 12 which is only the right value for the first rack state. I had different values for the other states and didn't change them (why should I?).
It is (!) possible to change the value and to send the new value to the MOXF but it's not possible to save it.
My questions:
why are the values equalized in all rack states although I didn't change anything actively?
why is it impossible to save a new value? (I got no write protection on any file)
I don't understand the root of this problem …
Regards from Cologne
Christoph