Hi,
Hopefully one of the deep experts in Cantabile tricks can help me, as I was looking at this last night, but a solution was eluding me…

My use case is that I am setting up a looper within Cantabile for some future solo ambient noodling shows where I want to noodle as I see fit (in Welsh Floyd our backing was always linear start to finish).
I have scene buttons on my Yamaha Montage that I wish to do the scene selection with the looper, and I have that working nicely. I have
An existing Rack that takes the CC94 that the Montage uses to show Scene Changes, which I have mapped using Cantabile filters to program changes PC1 to PC8
In the Looper Rack I have bindings to change those program changes to notes (as the looper scene map uses notes)
And that is all working nicely in my demo song.
However, I would like to get feedback that the loop has actually changed - I am setting the looper so that I can command a scene change any time, but the current loop will finish first before moving to the next.
So it would be nice for the Cantabile UI to show the current scene (as opposed to my commanded scene), so I know it changes
Something like this to show Scene 1…

And then once I command a change to Scene 2 (for example) and the Scene 1 loop finishes and Scene 2 is now active…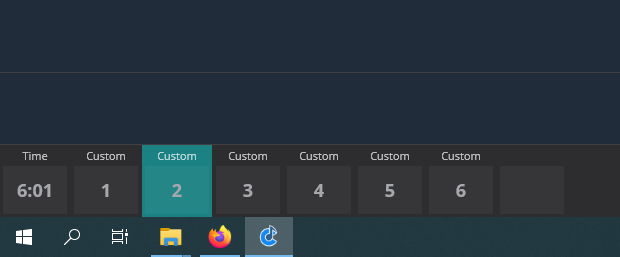 My idea is to have some unique MIDI event common across the scenes but with a unique value in each scene to identify the scene, e.g.
Scene 1 = Note C1, Scene 2 = Note C#2, etc., or
Scene 1 = PC 1, Scene 2 = PC2, etc., or
Scene 1 = CC 94, val 1, Scene 2 = CC94, val 2, etc.
But I need to translate that to a GUI change in Cantabile, which is where I was stumped last night.
Any ideas if this is possible in Cantabile?
PS when I have the looper working as I want, I will add to my guide series on how to setup Cantabile with my chosen looper (MuLab Plugin).