Update Obsession 1.03
Dave
Interseting, have to see what's changed…
What's new
7x faster GUI controls.
Linux build.
Standalone app.
Signed and notarized installers.
Updated JUCE framework to 5.4.7 for better stability and compatibility.
Updated Banks with 2.0 compatibility.
Ilkka Rosma Dark Theme.
macOS Catalina support.
MIDI CC Learn.
MIDI CC support.
Parameter refactor.
XML based skinning.
HiDPI (Retina) ready GUI themes.
I like the new dark theme - far more logically laid out: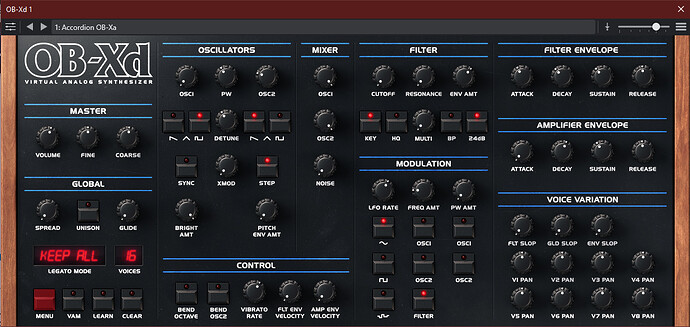 Nice… MIDI CC Support/Learn is a biggie
Not really with Cantabile - you can use bindings to control any VST parameter, so I don't really need a plugin to understand CCs directly. In fact, I prefer VST parameters, since Cantabile can read their current state and deal with them intelligently (toggle, feedback).
The real problem are plugins that don't expose their parameters (or only a subset) via VST parameters. Fortunately, it looks like OB-xd exposes all params via VST.
Just my 0.02 EUR…
Well maybe so but Cantabile isn't my whole universe… I use Cakewalk and oher DAWs as well. And it's nice to say "learn", turn a knob on a controller and go.
W-w-w what? Cantabile isn't your whole universe? I am so crushed.

OB-Xd 2.1 released
Fixed buttons MIDI CC learn issue.
Fixed LFO buttons not working or reverted issue.
Fixed Voice and Legato bitmap issues with 1x assets in Windows and Linux
Fixed Grey skin assets bitmap sizes.
Windows builds now use proper 1x assets bitmaps.
Changed macOS installer identifiers to avoid conflicts with 1.x.
Settings.xml changed to Skin.xml to avoid conflicts with OB-Xd 1.x.
2.1 now compatible with 2.0 format in Logic (AU).
Fixed AU issue with OSC MIX 1/2 setting to 0 on project recall.
Updated MIDI CC OSC1MIX and OSX2MIX to 77 and 78 to avoid conflicts in Logic Pro X.
Updated Themes folder dialog warning with proper path location.
Default theme set to Ilkka Rosma Dark.
Settings.xml installation fix.
OB-Xd 2.3 released
What's new:
New Vivolator and Blank Canvas banks.
Added MIDI Program Change support.
Added Preset and bank manager.
Dark edit menu.
Updated framework.
Download is available at www.discodsp.com (free for non commercial use) and discoDSP Members Area for existing customers (including AAX builds).
Version 1.1 of Obsession released.
Cheers,
Dave
White or pink noice?

Changed the thread name because many of the posts were from another brand.
Dave
OB-Xd 2.5 released.
What's new
Added Scalable GUI (1x, 1.5x, 2x) with HiDPI support for all platforms.
Added Luke's Soundhouse 80s & Synthwave Presets bank.
Preset Bar now uses bold font for better visibility.
Specific fonts for each system (Helvetica Neue for macOS, Arial for Windows and DejaVu Sans for Linux).
Revised all themes XML knob sizes and alignments.
Updated assets with 4x bitmaps including Ilkka Rosma Dark theme.
Streamlined Menu.
Updated themes folder error dialog assets and window size.
Added program popup menu when clicking Preset Bar name.
Added Menu Help version and Open PDF manual (Windows and macOS).
Miscellaneous fixes an enhancements.
OB-Xd 2.5.1 released.
What's new:
Fixed dialog windows color scheme issue.
Tweaked font scaling sizes.
OB-Xd 2.6 released.
What's new:
Implemented basic MTS-ESP support by Natalia Escalera.