Just a quick one after the first live gig with my new project "Mind The Gap" last night.
I built my setup fully on Cantabile - well, what'd you expect from me… - and two keyboards, connected via a USB MIDI interface (iConnect Mio2). Nice and clean setup - with the obligatory Cantabile sticker prominently displayed!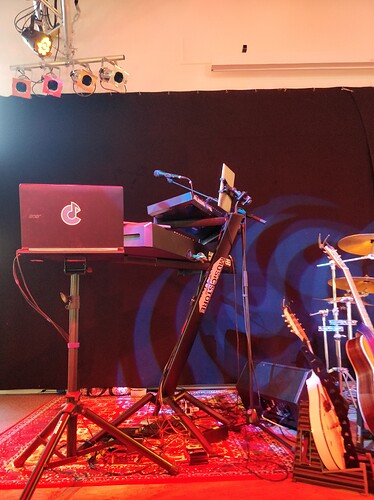 I came to the gig fully prepared and backed up (two laptops, two audio interfaces, two LivePrompter tablets), but during the first set my main master keyboard (AKAI MPK88) went completely crazy - started turning on the arpeggiator by itself, transposed itself three octaves down, went into "save preset" mode all on its own, and all other kinds of nastiness. Seems something gave out in its motherboard.
Having this in the middle of a song is a nightmare in itself, but without a backup master keyboard, the fun really starts. So we sent a family member of one of my bandmates who lives nearby to get his studio masterkeyboard from his home, and in the meantime, I unplugged the MIDI cable from my AKAI and plugged it into my upper Alesis VI49 to have it act as my new main keyboard. A bit difficult to play piano parts on a super-lightweight plastic keyboard with 49 keys; lots of octave shifts necessary when doing boogie piano soloing in the upper registers, but at least we somehow survived the first set.
In the break between the first and second set, the studio keyboard arrived, we plugged in the MIDI connector and the sustain pedal (unfortunately no expression or second pedal port, so still a bit of improvisation necessary) and the next two sets were back to business as (almost) usual.
So my learnings from this:
No matter what spares you carry, there will always be something else that can go wrong. Next gig, I'll probably carry a spare master keyboard, but maybe it will be the mixing desk that goes up in smoke…

My decision to move to a full laptop setup paid off big time. If I had been in a traditional workstation setup and my main board had failed, I would have been dead in the water - no way to find a replacement with my exact sounds and configurations. With my Cantabile setup, any decent MIDI keyboard was good enough to play the rest of the gig as planned.

Using MIDI cables to connect my keyboards instead of going USB was extremely helpful. First, it allowed me to use my upper keyboard as main (by simply switching MIDI cables) to save the first set, then it was easy to simply plug in the replacement keyboard and go on. No change to my Cantabile input ports configuration necessary at all!
Tomorrow we have our next gig with the band - this time in a circus tent! Wonder what excitements await us there…
Cheers,
Torsten