Hi all,
an interesting new addition to my arsenal: Harrison (of Harrison Console fame) recently published a channel strip plugin - a spin-off of their Ardour-based DAW "Mixbus 32C".
It has the usual channel strip functions: meter, input & output trim, hi- and lo-pass, compressor, and EQ. I like the layout - all necessary controls for sound shaping arranged in an easy-to-use GUI - makes it super-quick to dial in your sound.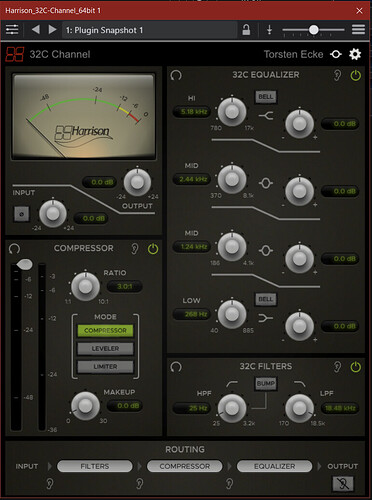 Its CPU footprint is lower than my usual go-to EQ plugin in my racks (FabFilter Pro-Q 3). No added latency reported (in REAPER), so that looks good as well. The EQ feels hi-quality - difficult to make it sound harsh even with massive boosts of the high bands.
I like having sound-shaping options in my instrument racks; I may well make this my default post-instrument plugin - of course after some intensive testing…
It's still on sale for $49, half the final price - their email says until today, so grab it if you're in the market for something like it.
Cheers,
Torsten