Is it possible that C3 is aligning recorded MIDI Notes on 1msec boundaries?
I am recording two streams of MIDI over USB into a single .MID file. The streams are related, in that they arrive from the same source over different paths (I am doing latency tests). One stream is always behind the other (as expected), but the latency is always an exact multiple of 1.00 msec.
I am measuring the time difference by opening the MIDI file in Reaper.
When I record the same setup directly in Reaper, I get no such "quantization" effect. Latency varies from test to test at the sample level.
Here is a diagram of my test setup: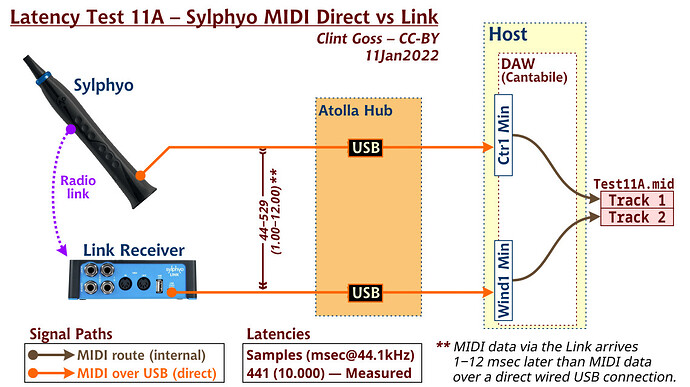 My two signal paths are a direct USB link and a Radio link to a receiver. You can see that the latency between the two - in Samples at 44.1 kHz - is always a multiple of 44.1. All of my latency numbers are (in samples) 44, 88, 132, etc.
Has anyone experienced this in Cantabile??