Hi,
I am running Cantabile 3 on a Windows Surface Pro 4 Tablet. I use a Zoom UAC-2 audio card, and my instrument is an electric violin. I am NOT a keyboard player [don't take it personally], so I don't have much experience with MIDI. I have a Behringer FCB1010 MIDI Foot controller, because as a violin player, my hands (both) are always busy, so I only have my feet to send MIDI messages.
I'm having trouble getting things set up.
First, even thought the Foot Controller isn't a keyboard, the only IN MIDI devices in the MIDI ports settings dialog are the on-screen keyboard and the Main Keyboard. So… I routed the MIDI IN from my audio interface card which is connected to the foot controller to this Main Keyboard – is that correct? [see picture]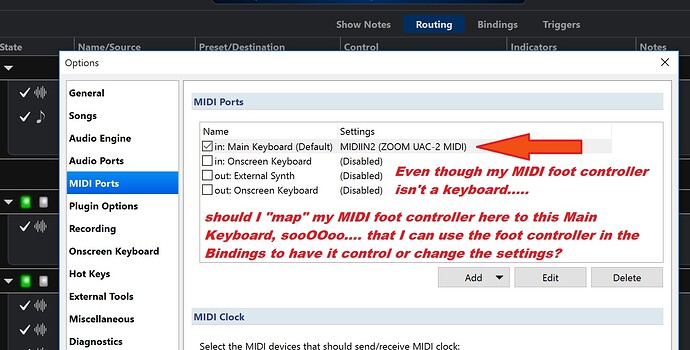 Then what do I do? I tried to set up a binding, but what about the Input Port routing? Do I need to do something there?
I tried setting up a binding, that is bind the Main Keyboard, which is really the audio interface MIDI input, which really is connected to the foot controller. The target of the binding is the gain to the rack I'm trying to control by MIDI Continuous Controllers. [see picture]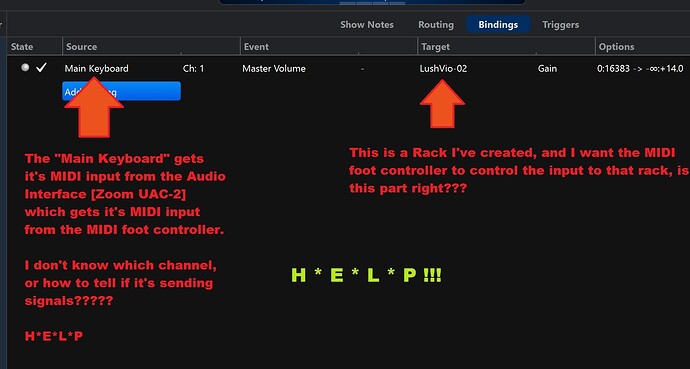 Is there a better, or more clear tutorial video on this?
How can you "test" or know that the MIDI Input messages are coming through?
Any advice or video tutorials would be GREATLY appreciated!!!
MIDIless in Midland