I thought I would use Custom Button 3 - set color red - assign it to "Tools > All Sounds Off". I was expecting the green power icon in the upper right to grey out". That doesn't happen. Pressing the custom button doesn't stop sound either. My last step was going to be to bind that custom button to an unused button (away from the others!) on my Axiom keyboard.
I'm pretty sure this isn't the way to do it. Help - I'm motivated because I'm using Hybrid live for the first time and a few times I've gotten stuck notes that only restarting Cantabile would resolve. It had something to do with modifying the song states that I'm using to change plugins in the linked rack.
BTW, in the spirit of workstation style Cantabile use - I followed dave_dore's instructions Switch plugins in linked rack using song states and then assigned the 8 pads on the Axiom to switch. Then I labeled them as follows: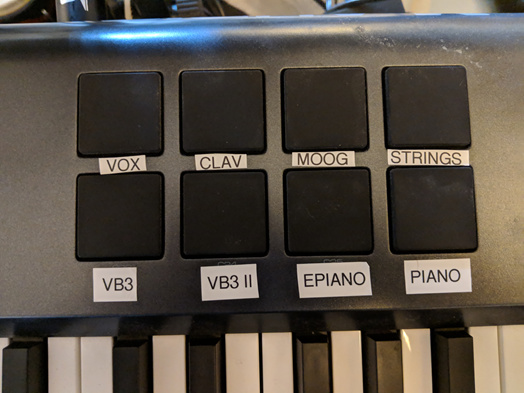 Each state is saved for the single patch I will be using for each plugin (all controls for VB3 are available with sliders and buttons).