Hi all.
Had to do a full clean install of windows 10 - after it recently screwed up.
Just trying to reintroduce cantabile 64bit, from a brand new download.
I use a Behringer UC222 presently with headphones for my output.
That is presently working without any issues whatsoever, with my Akai Professional VIP software.However, at Cantabile startup, it now throws up an error box !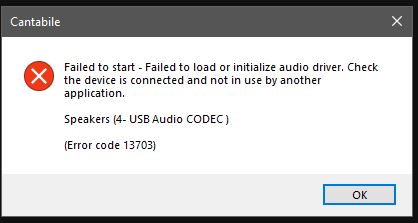 rebooting the Laptop, to see if VIP had previously "Grabbed" it, made no difference at all. still throwing up the error message.
No ASIO visible in settings. all that is showing is Microsoft GS wavetable synth (Which Cantabile doesn't like anyway !)
I have re-downloaded and reinstalled fresh copy of the ASIO drivers for the UC222, direct from Behringer. It still works fine through VIP.
It also gives me all other sounds via headphones, ie MP3, Youtube, windows sounds etc. No problem.
The only program that doesn't want to know - is Cantabile.
I never had this issue before. Any suggestions guys?
best regards
Gaz.