I am in need of a Y cable to connect the balanced XLR-M dual outputs of an RME Babyface Pro FS to a stereo unbalanced ¼" TRS-F input. So, I got a ProX Y Cable 1/4" TRS-M Stereo to Dual XLR-F (https://www.proxdirect.com/products/view/5-Ft-High-Performance-Y-Cable-14-TRS-M-Stereo-to-Dual-XLR-F-XC-SYXF05).
HOWEVER … this (and all available cables) are intended to pass signals in the other direction - to split a Stereo unbalanced signal into two balanced outputs. That means that, on both the XLR connectors, both pin 1 (shield/ground) and 3 (negative signal) are connected to the Sleeve of the TRS connectors, as shown in the circuit diagram (from https://www.idjnow.com/prox-xc-syxf05-cable.html).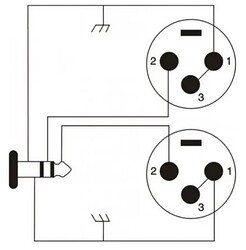 I confirmed this wiring by opening the XLR connector on the right channel, and it had a strap between pins 1 and 3: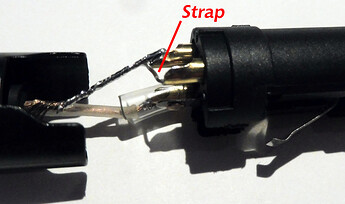 I'm not sure what happens in this scenario, but isn't the sleeve of the TRS connector being driven with the negative (pin 3) of both left and right signals? Which would cause … I'm not sure what at the receiving end.
So I tried it by routing the output ¼" TRS stereo signal into a stereo channel of a Mackie Mix8 mixer (using Y splitter) and listening on headpones. What I heard was … perfectly normal. Left and right were separated and seemed normal (although I had no way to tell if the whole signal was phase-inverted).
Can anyone explain why the cable as-is works?
Should I cut the strap between pins 1 and 3 and will it make any difference??