Hi All, Crumar's first ever VST Instrument a remake of 1979 Performer
Cheers,
Dave
Very cool! I might have to indulge myself…as if I never do, lol.
Good find Dave!
Allllllrighty then. I took the dive, and went thru the presets. First few minutes, somewhat cheesy, nothing I couldn't get on other plugs. After 10 minutes, it grew on me. Kinda like a retro nostalgia feeling. Then experimented with the lower octaves which are Moog heaven! Very dominant, bold, and farty splats. The strings, voices and horns have very nice Mellotron feeling. Lots of parameter settings, and has stompbox fx (like other recent plugs). I had to reduce the gui size, as it completely covered up Cantabile. CPU load never went over 10% on my Win7 machine.
Once I start making my own settings, I can see me using this on some future recordings. I think 99.00 Euros is a bit high, but I have paid more for lesser plugs. There is a free demo with a 3 second pink noise every 30 seconds, or so.
Thanks for that Corky, your hands on experience with the newbie is appreciated! It looks like our friend from GSI isn't in on this, or is he?
I saw where he is an affiliate of Crumar …
They've been tied together for several years now. Don't know the relationship, but I've seen GSI and Crummar linked, somewhat like Hammond/Leslie. One owns the other, or they are both owned by a 3rd party.
GSi (Guido Scognamiglio) was involved in the development of the Mojo organ, using very similar algorithms of the first VB3. This is one of the relationship with "new" Crumar, that's totally unrelated to the original brand.
They are long time debating about recreating the Elka Syntex, but it seems there is lots of arguing, and/or lack of investments (pure speculations, at now)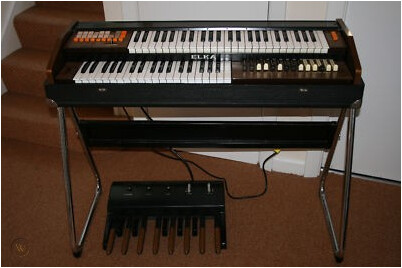 My only Elka ever … from the 70's/80's. It had it's own sound to be sure … I didn't have the foot pedals though
ELKA X55/P
… and the RA-200 rotating speaker I used with it from Yamaha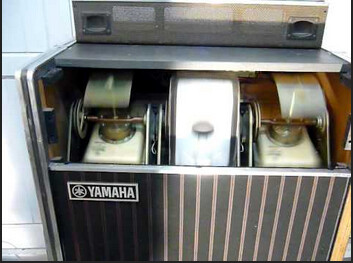 I blew the power amp main transistors once during a practice from extreme levels and driving the organ and a couple synths through it and the top speakers kept fanning the toxic smoke into the air tight soundproof room we were in lol it caused quite the retreat by the band, once again the keyboardist cleared the room

It's usually the drummer…but that's one way to end an endless guitar solo.

I remember all of those Crumar adverts in Electronics and Music Maker back in the day… Will check it out, but I do have VSM… And I have probably blown my music budget many times over this year! I have regressed a little in terms of hardware (even making room in my studio for some more which do not quite fit under the tree, so are currently up in the attic awaiting Friday!) but fear ye not, I am still a big VSTi fan and Cantabile user (when I gig live again anyway that is)

Hi, just wanted to say that if you want an emulation of the Synthex, check out XIL-LABS version, the Syn'X
Thanks, Derek. I'll check for a demo of the Syn'X
Elka Synthex is strong in my memory. One friend bought it and was sure it was better than Prophet5!
They do demo versions for the VSTs.
FYI, the XILS-LAB developer, Xavier Oudin, is ex-Arturia, who set himself up to do emulations of slightly more obscure synths. Their Poly Kobol is amazing, as is their VCS3 emulation and PolyMoog, along with the Synthex
I would say different to the Prophet, based on the same chip set but with its own strengths. It found favour with people like Jean Michelle Jarre and Geoff Downes (Asia)
Then…there is the Elka Panther (Capri). Love this organ. It's the sixties all over again! There are 2 developers I found that produced a vst…Martinic and Soundion. They are both very proud of them at $165.00. Would like to experience the "cheese", but a bit too costly for an occasional use.
Having had a Performer part of me would love having this for nostalgia but… I mean, given what it's emulating I'd say $10 would be about the upper limit for me

I tried the Syn'X, it's an excellent emulation of the original. The miniSyn'X is good as well. Then I downloaded the VCS3 (Xils 3) 'cause very curious about it. I am a great fan of Pink Floyd, they used extensively the VCS3, so I'm really interested in that synth. It's a bit expensive, I'll deeply evaluate it, but knowing myself, at the end guess I'll buy the Xils 3.