Who knows who will use this, but here you are.
Say you want some background music to start up as soon as you have Cantabile up and running? You want an auto-playing playlist of several tunes (likely your own but not necessarily) to start when you fire up Cantabile. (Or not, but see later…)
That is what Cantabile's Tools/Options/External Tools seems to be just MADE for!
(I'd love to hear what other uses people have come up with for that… perhaps in a new thread!)
I have Cantabile open a playlist. VLC happens to be my default player for playlists, so that program starts up automatically and begins playing it.
I have it automatically run on startup (bottom checkbox), but you can alternatively simply include this script as a menu item, having it appear in the Tools menu as an item, or also in the Midi Files or Audio Files (though I do not know where those appear, frankly, to be honest). You can then NOT check the "Automatically run on startup" and simply run it from the menu instead.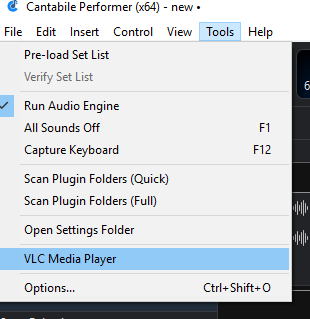 Result upon startup:
Have fun!
Terry