I am getting an "unknown name" semantic error on the clamp() function in the .cantabileControlCurve file I am developing. The expression is:
"scalarToPosition(x)": "clamp( ((log(x,10)*20 >= -6) ? ((log(x,10)*20 + 26.8235294118) * 31.1666666641) : (826 - Sqrt(-34869 - 220660*log(x,10)))) / 1023, 0, 1)",

(This relates to my development of control curves that match TotalMix.)
The error occurs when I start up Cantabile (which apparently parses all available .cantabileControlCurve files in the Resources directory on launch):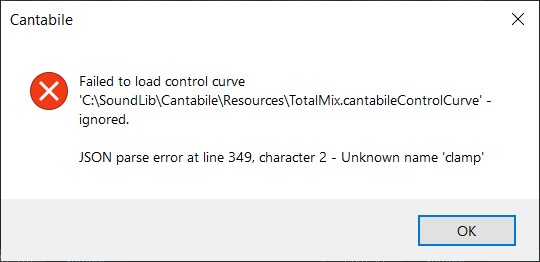 I'm looking at the function reference at https://www.cantabilesoftware.com/guides/functions.
When I remove the clamp() call the expression parses and Cantabile implements the new control curves as expected.
Not sure if this is an @brad question, or whether I've misunderstood control expressions.